We Are Serious
About Your Business
Thanks for checking us out!
As busy real estate professionals, we know you're short on time. If you don't have time to read everything, the top section (Our Services) is a super quick overview. If you want to learn more, keep reading. If you really want to learn even more, let's schedule either a one-on-one or bring us in to your office to do a lunch-n-learn sometime with your team.
Our Services
Roofing (mostly re-roofs)

Residential

Commercial

Multi-family

Asphalt, synthetics, tile, metal, flat roofs

Windows and door replacements

Vinyl, fiberglass, and wood

Certified with Sierra Pacific, Pella, and Andersen

Free inspections and reports

$325 roof certs w/5-year warranty (if the roof qualifies)

Insurance claim handling (let us do the dirty work in dealing with adjusters and take that stress off of your plate!)

Secondary trades: paint, siding, and gutters

A large network of other contractors/trades should you need something we don't do
Whether you're a seasoned Realtor or newly licensed, you likely understand the importance of having great trade partners at your fingertips. If you're newer, you might be still building out your "team". If you're a vet, you've probably worked with a number of contractors over the years, many of whom have come and gone from your network for various reasons (we can think of a few reasons you'd cut them loose!). Regardless of your tenure as a Realtor, outside of your home inspector, a great roofer is critical to making sure your deals close on time and properly!!
At Sky Manor, we look to be more than just a company you call on when there's a problem or you need a quote. Our goal is to be a trusted partner for you and your clients. Whether you're on the buyer's side or the seller's, we have the experience to know how to quickly navigate pretty much any roofing or window issues you may come across.
Why do we mention windows? While roofing is the primary reason we get calls, we've found that not a lot of Realtors we come in contact with have a good window contractor in place. Here at Sky Manor, we do both!
No matter the situation, we will provide an honest evaluation of the roof or windows. Some roofers will say every roof needs to be replaced, whether it really needs it or not. That's not us. What good is our opinion if you can't trust it, right? It might not be the answer you were hoping for, but we wouldn't be doing our job if didn't evaluate things properly!
Sky Manor was founded in 2019 by Chuck Jackson, Dustin Pitney, and Mark Dulon. After spending multiple years in sales and project management for other Denver local roofing companies, the 3 of us came together to create a company that we, as reps, would have wanted to work for and that our clients would rave about (they do, check us out on Google!).
We built our company on 3 foundational principles: quality, efficiency, and professionalism. Everything we do is guided by these principles. If you're someone who wants an honest opinion and assessment, this is who we are. We won't ever compromise our integrity in order to get a sale.
Yes, we are a roofing contractor. Yes, we also do window and exterior door replacements (vinyl, fiberglass, wood, etc.). Yes, we do other exterior trades (siding, paint, gutters, etc.), however, these are considered secondary trades for us, meaning we typically do them in combination with our primary trades or roofing and windows.
In general, we try to stick to the outside of the house (with the exception of some interior work on the windows, of course).
We offer free inspections and can put together quotes, photo reports, and yes, we do offer roof certs ($325 if the roof qualifies for a cert).
To know if a roof qualifies for a cert, we must do an inspection.
Our home base is in Thornton, CO, but we have team members all around the Denver metro area. Our general territory is from Castle Rock to Longmont, but we can go outside of that for certain jobs.
We are licensed in about 30+ jurisdictions and can easily get licensed if there's an area we aren't in yet if you need it.
We've gone up into the mountains to do jobs, too. Conifer, Bailey, Leadville, Georgetown, Silverthorne, Glenwood Springs, to name a few towns we've done jobs in. For that, it's all about the project and the need. We want to make sure it's something we can adequately service down the road!
This is just a brief intro into our services, but, hopefully you can tell by now that we know our stuff. Once you see how we operate, you'll know the value we bring to your deals. We know hiring contractors can be....well, irritating and frustrating to say the least. We've dealt with it ourselves. We value honesty, integrity, and fairness when it comes to our team, our crews, and our partners like you. Put Sky Manor in your tool belt (and, in your phone contacts!) and let us help you.
Our main goal is to take on the stress of dealing with any issues that may arise with the roof or windows. Whether that's taking on and handling an insurance claim (we do this really well) or simply going out to inspect a roof you might have concerns or questions about, we've got your back!
We mentioned this at the top, but in case you missed it, we'd love to sit down with you and/or you and your team if there's ever a good opportunity to do so. Let us know. 
Sky Manor: saving your asphalt one roof at a time!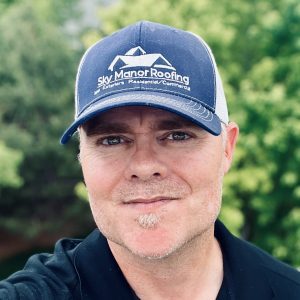 Need a roof or windows inspected?
Use our Calendly link to schedule a free inspection